Crusading for a Christian Nation
How Christian Nationalist Pastors Have Disseminated Donald Trump's Myth of the Stolen Election
Abstract
With the Capitol riot on January 6, 2021, being one of the latest manifestations of the deep crisis that American democracy is facing, this essay focuses on the fusion of religion and politics as manifested in the Christian nationalist movement – a belief system rooted in the superior morality of Christianity and the conviction that both American society and politics should be exclusively guided by Christian principles. Three sermons by altogether three pastors – namely Greg Locke, Ken Peters, and Brian Gibson – serve as the basis for this analysis, which focuses on the following question:
How exactly did they interpret Trump's loss in the 2020 presidential election, and how have they supported the narrative of a stolen election?
The myth of a stolen election (the Big Lie) was introduced by former president Donald Trump himself after his loss in the 2020 election to 'stop the steal' and secure his second term in office by mobilizing his loyal followers. The analysis will prove that the pseudo-religious movement played a major role in consolidating this narrative by using biblical language and scripture, apocalyptic visions, conspiracy theories, as well as violent rhetoric to support their president. Eventually, it was exactly this politico-religious agenda and religious fervor that promoted violence and hatred, which facilitated the violent insurrection at the U.S. Capitol – an incident that has shaken American democracy to the core.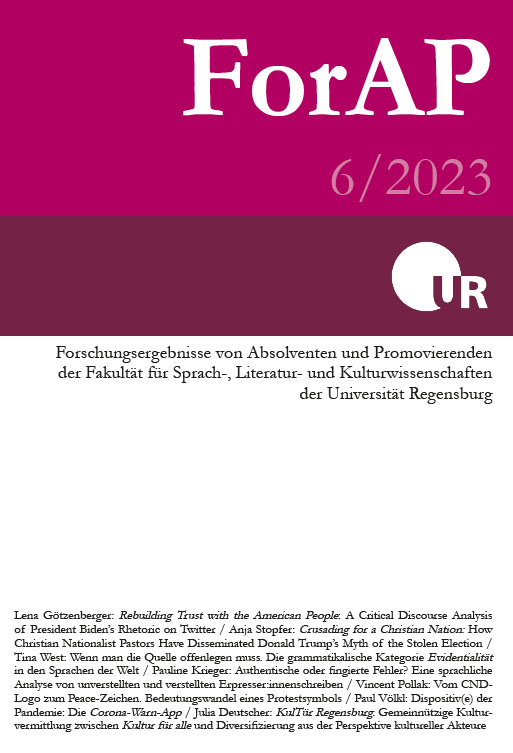 Downloads